On an unseasonably warm day in February, we made our way up through Vermont's Champlain Islands, landing in Alburgh, where we visited Nick Smith and Ashley Bowen, the mastermind couple behind Emerald Visions.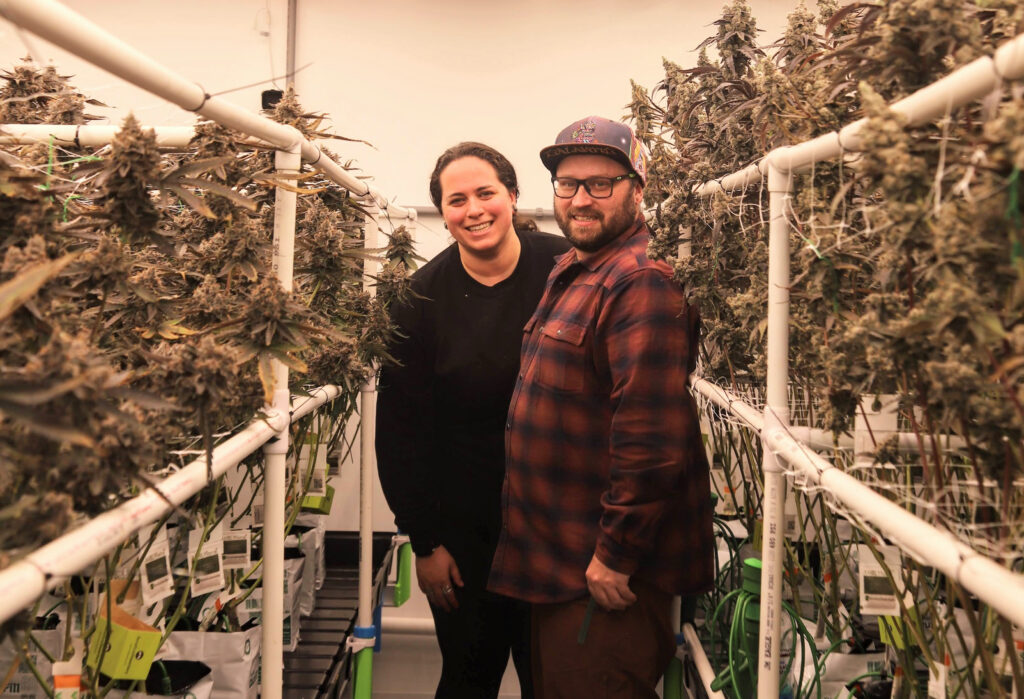 You don't need to spend long with Nick and Ashley to see that they are something of a cannabis power couple. Cultivation is in Nick's blood, as he comes from a very long line of Vermont farmers — he's a second generation cannabis farmer, and would have been an 11th generation dairy farmer if his family hadn't been forced to sell their farm in Berkshire, VT. While Nick oversees the agricultural side of things, Ashley spends her days as an artist and educator, reserving her evenings and school breaks for the trimming and management of their self-funded business.
Keeping It Craft
From the start, their goal was simple: grow exceptional craft cannabis. They've achieved that goal and more, growing Emerald Visions into one of the most well-known craft cultivators in the state of Vermont. With their fervent Instagram fanbase of over 11k followers and their sterling reputation, it's no wonder that when their flower hits the shelves in retailers, it sells out in just days. "There is no such thing as keeping up with demand" Nick jokes.
"There is no such thing as keeping up with demand." – Nick Smith
On the daily, retailers as well as members of the public reach out in hopes of buying whatever they can get their hands on. Not just certain strains and not a pound here and there, but their entire crop. Multiple times a day. Not exactly possible to keep up with a demand that high.
If you're one of these folks looking to buy out their whole crop, keep dreaming. Maintaining that small craft feel is what it's all about to Ashley and Nick. They love visiting dispensaries and meeting with customers so much, they recently moved away from using a distributor in favor of hand delivering to retailers themselves (Nick even made a custom map of their route to make sure they're giving everyone the attention they deserve.) What better way to connect with customers and get the skinny on their favorite strains?
The Search for the "White Whale"
Emerald Visions may be a business, but it's a passion project for Nick first and foremost. After spending the early 2000's learning the art of the grow in California's Humboldt County (the name "Emerald Visions" is a nod to his experience in California,) Nick returned to Vermont where he grew for CeresMED. Now that he and Ashley have the freedom to grow exactly what they want, how they want, Nick has found his sweet spot.
"Searching for his White Whale" is how Nick describes his cultivation process, in that he never stops his hunt for new and exciting genetics. He hopes no one is ever bored by Emerald Visions' strain offerings, emphasizing the importance of variety. Ashley points out that variety comes through in more than just their cannabis crop: "He grows incredible tomatoes too."
The Future of Emerald Visions and the Vermont Cannabis Industry
So what will Emerald Visions look like in 6 months? A year? Five years? Most immediately, the couple hope to expand their operations, having already applied for a Tier 2 license and planning two additions and a full wastewater system. A retail presence isn't out of the question either. Nick hopes to model Emerald Visions after Shaun Hill's success in revitalizing the craft beer industry though Hill Farmstead.
Above all, Nick and Ashely hope to see the cannabis industry in Vermont support craft cultivators with a focus on granting Tier 1, 2 and 3 licenses. "There is a lot more to be excited about than not" in the future of cannabis is Vermont, adds Nick. So for now, Emerald Visions will stay lean and small, working on growing at their own pace, and in their own way, with their focus always on quality over quantity.
Keep an eye out for Emerald Visions' newest strains Creamsicle X Zkittlez Cake, Loma Prieta, and Platinum Punch coming soon to a dispensary near you!
Video: Dave Rocha