At Green State, we're all about making the holiday season (and the every day) as relaxing as possible. If you're on the hunt for the perfect gift for that special stoner in your life, you've come to the right place. So go ahead—light one up and browse our Cannabis Gift Guide!
THC Gummy Gift Box of Cheer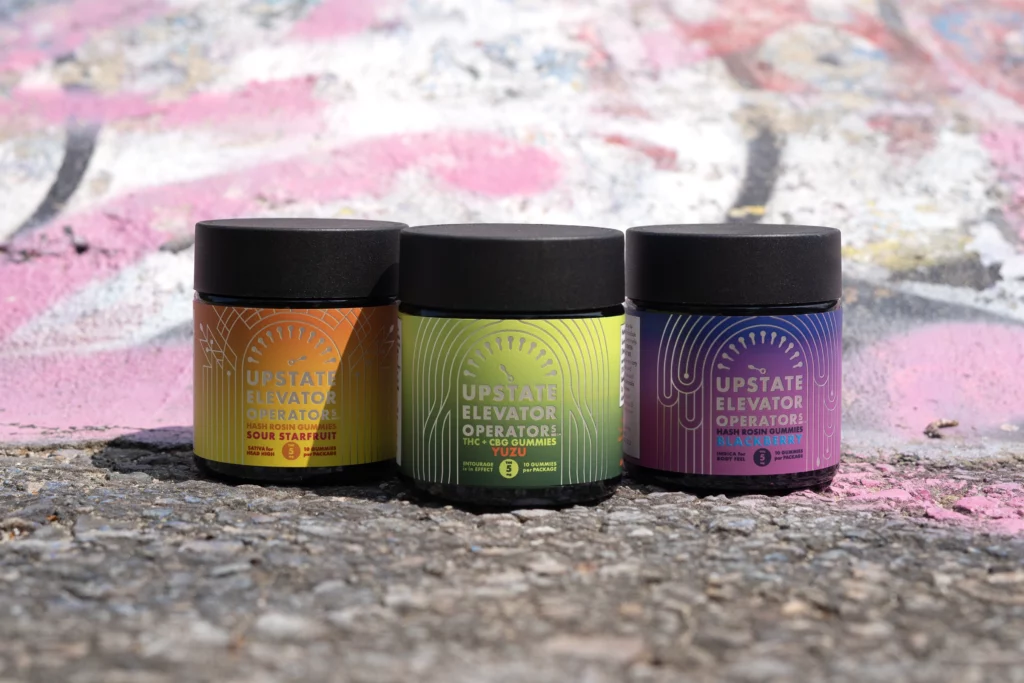 Find your floor with our THC Gummy Gift Box of Cheer! From sativa-dominant Sour Starfruit to our indica Blackberry, and CBG+THC Yuzu gummies—we have a gummy for every occasion. Be the star of any holiday party or social gathering with our best-selling gummies by your side. Save 10% with this bundle!
CVaults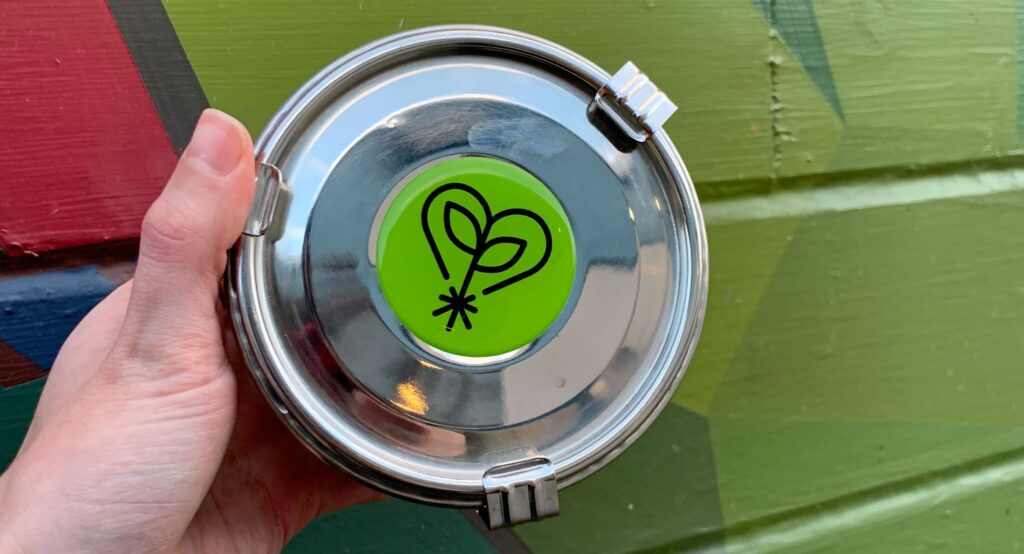 Grab your buds and score big! Buy two-eighths of any flower and snag a 50% discount on our rock-solid CVault. This stainless steel beast is like a superhero for your stash, keeping it fresher than your relative's passive-aggressive comments at Thanksgiving. No more worrying about air, light, or moisture ruining your good time. With a 2 oz (56 gram) capacity, it's the MVP of cannabis storage. Don't be the last one to level up—Green State's got your back, as always.
50mg Dark Chocolate Sea Salt Bar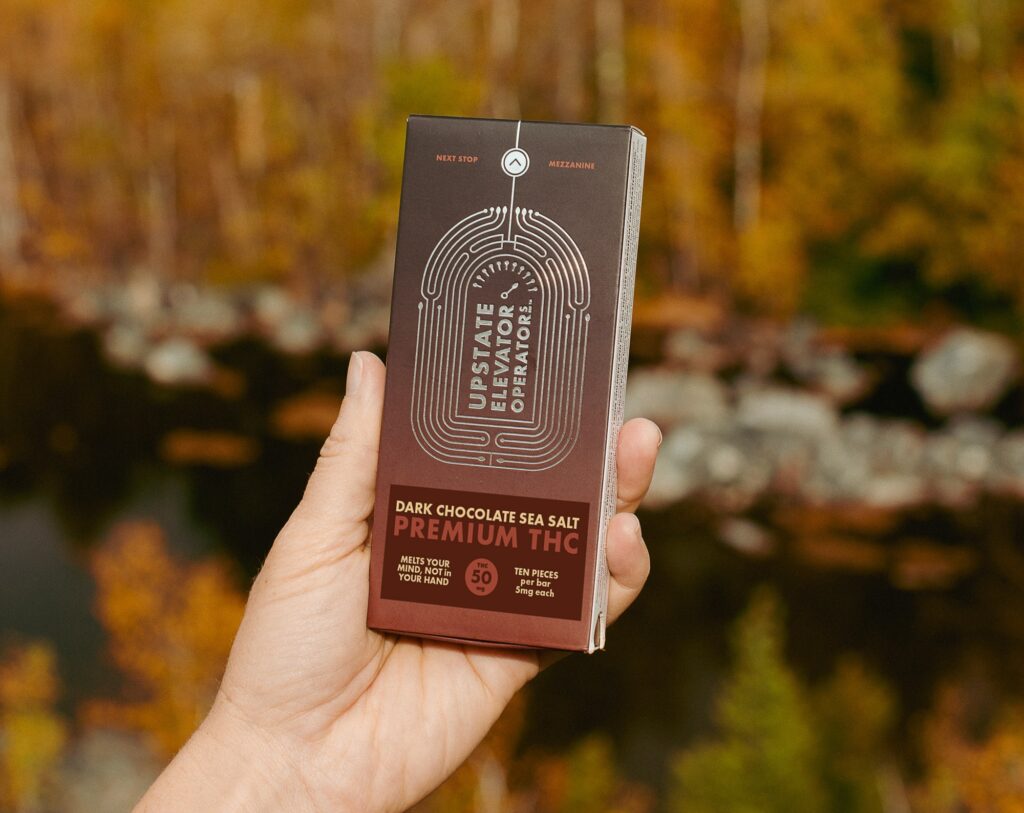 Never fear a dark sea — at least not when it's our 50mg Upstate Elevator Operators Dark Chocolate Sea Salt bar. We take 50mg of our high test, Vermont-crafted pure THC distillate, and blend it with rich, 72% cacao dark chocolate before embedding a host of crunchy, briny Maldon sea salt flakes for a sharp finish. With 10 5mg pieces per bar, you won't have to go far to hit the high seas.
Puffco Proxy Hash Vaporizer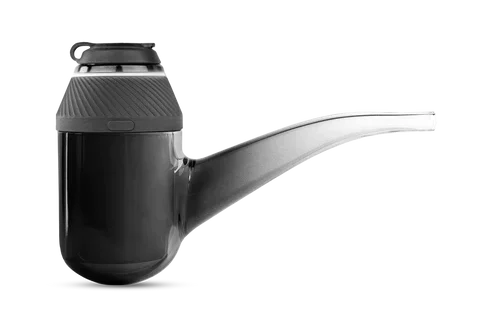 The Proxy puts unmatched versatility and top-tier technology in the palm of your hand. This compact vaporizer delivers premium flavor, featuring four precision heat settings and a simple single-button interface.
4-Piece Green State Grinder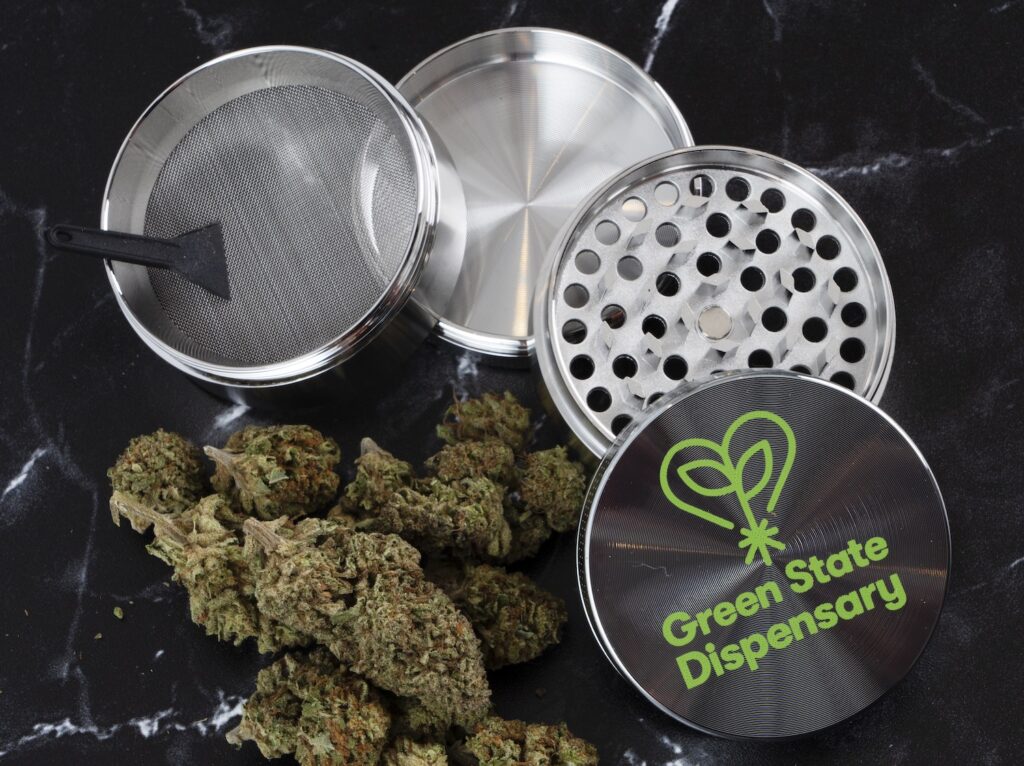 Getcher grind on! Our all-aluminum, 60mm, 4-piece Green State Dispensary grinder comes equipped with a screen for catching pollen, a scooper for collecting it, and a fancy logo up top, because why shouldn't your grinder be the most stylish member of your entourage?
Green State Medtainer & Grinder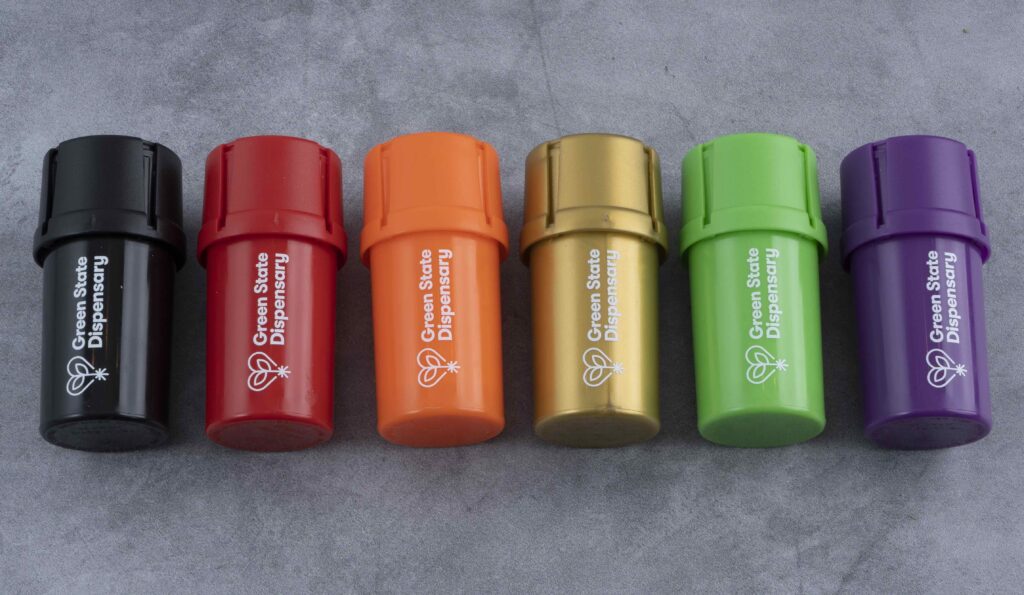 Make sure your weed stays fresh while you're on the go this holiday season. Made of medical grade plastic, airtight to keep all your wonderful aromas inside, with a built-in grinder for when you're ready to roll, and available in a variety of colors to fit your particular mood!
2-in-1 Operators Tumbler and Koozie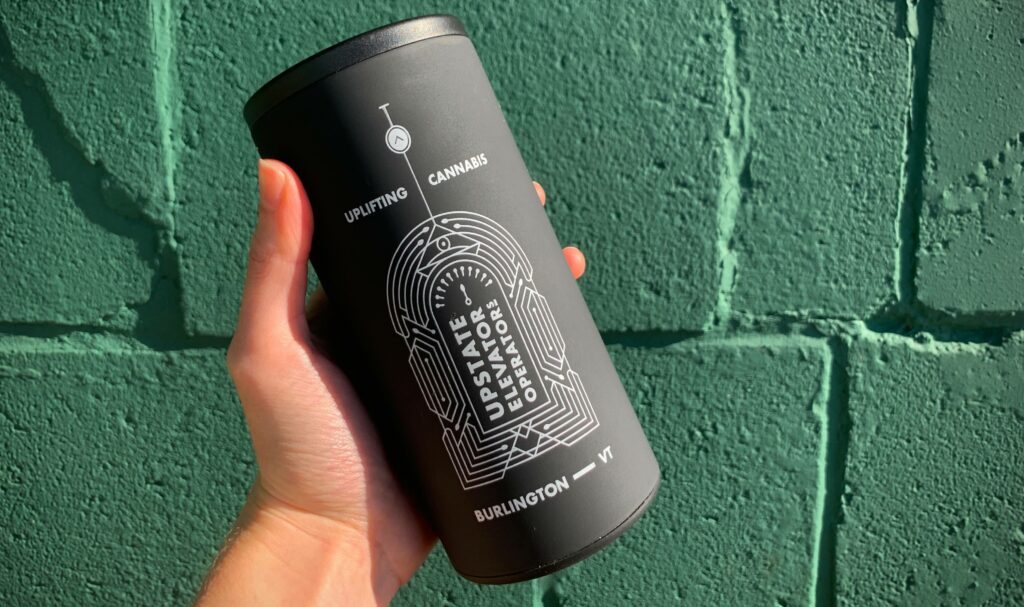 Drink up and wrap your hands around our vacuum-insulated Upstate Elevator Operators tumbler. It's equipped with a closable press-in lid to keep your white shirts in pristine condition and your drinks at that goldilocks temperature – perfectly hot, or chillin' like a villain. It also moonlights as a koozie to keep your THC drinks nice and cold. Plus, our charming logo on the side will be your trusty drinking buddy, silently cheering you on in the most stylish way possible!
Hemp Chewy Calm Bites for Pets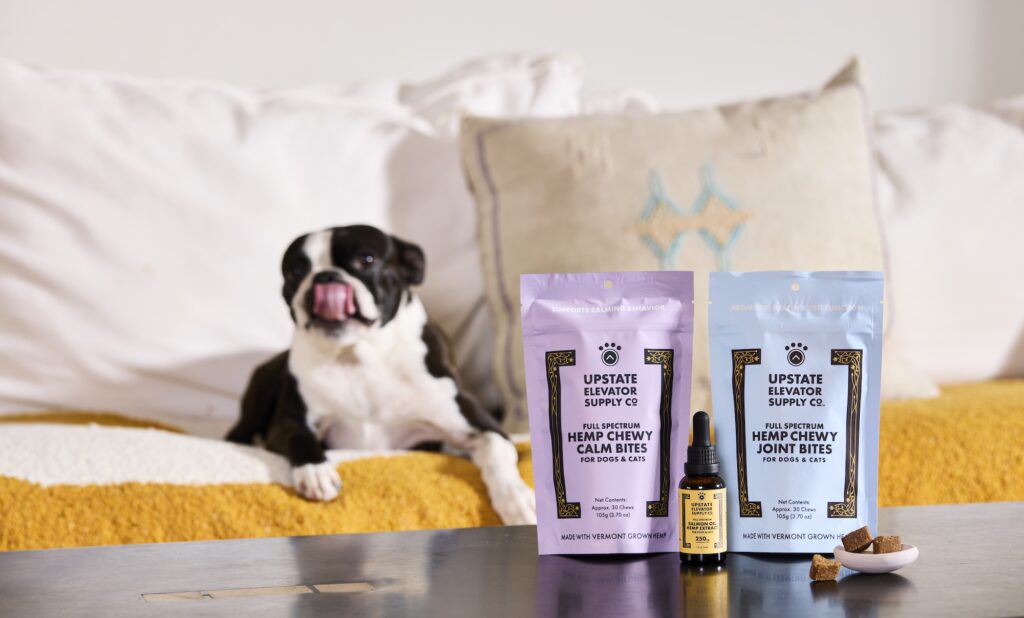 Don't forget about the furry friends in your life and their owners! Crafted with hemp oil, lemon balm, and l-theanine, Upstate Elevator's Hemp Chewy Calm Bites help bring calm and relaxation to dogs and cats.
Deep Calm CBN+CBD Raspberry Gummies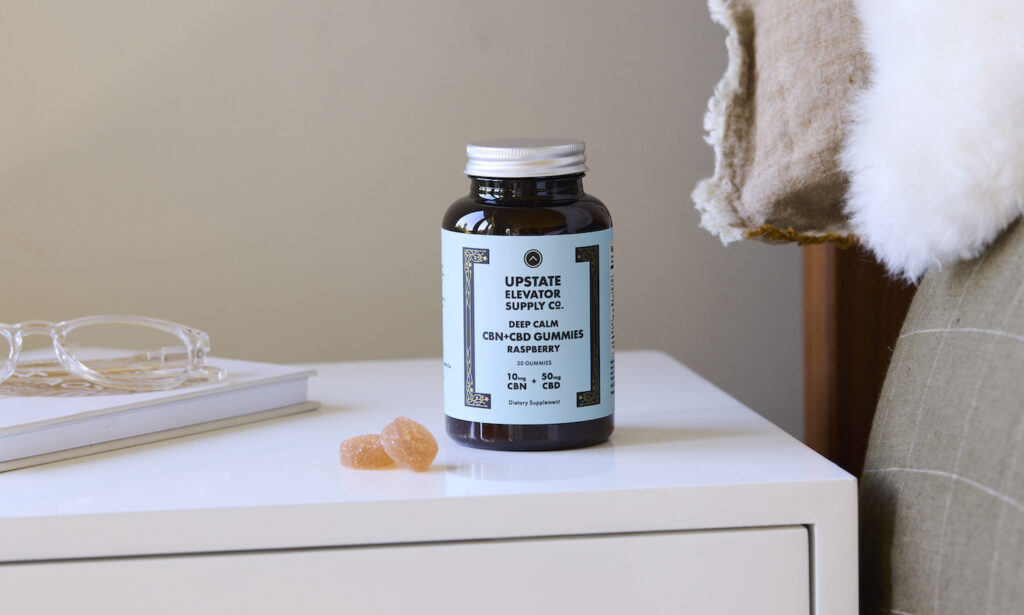 Who wouldn't want the gift of a better night's sleep? These Upstate Elevator CBD gummies feature the all-star nighttime cannabinoid, CBN! Formulated with 50mg of CBD and 10mg of CBN, these tart raspberry gummies can help anyone find bliss at bedtime without the high.
Tiny Gang Cards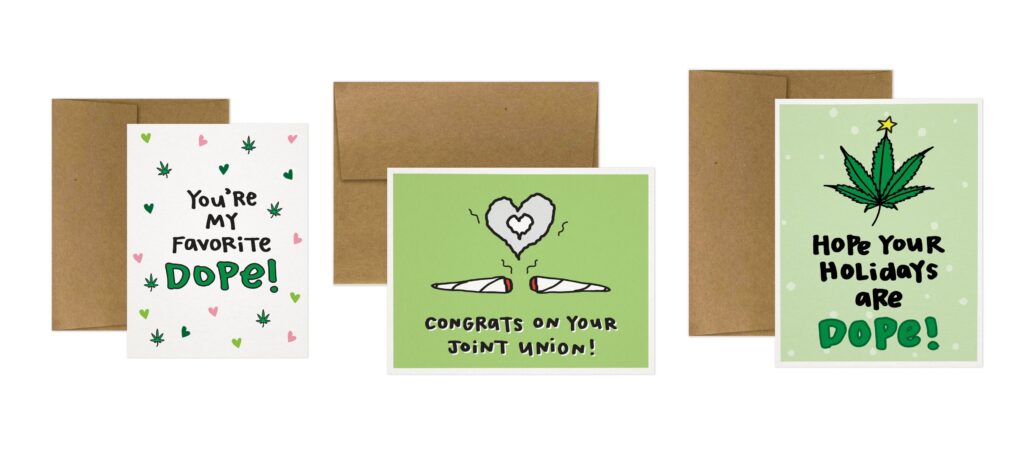 Crafted on recycled premium card stock, Tiny Gang eco-conscious greeting cards come in A2 sizes and include a 100% recycled "grocery bag" envelope. With a blank interior, you have the creative freedom to personalize your message. Each card is carefully protected in a cello sleeve. Handmade in Vermont, these cards reflect a commitment to quality and sustainability. Buy anything from our gift guide and get a card for 25% off!
Come visit Green State Dispensary to shop for holiday gifts, get a consultation, or explore new releases!
SPECIAL HOLIDAY HOURS
Green Wednesday | November 22nd – 10am – 8pm
Thanksgiving | November 23rd – CLOSED
Green Friday | November 24th – 10am – 8pm
Friday, December 15th – 10am – 6pm
Christmas Eve | December 24th – 10am – 4pm
Christmas | December 25th – CLOSED
New Year's Eve | December 31st – 10am – 6pm
New Year's Day | January 1st – CLOSED